Press releases 18 June 2018
Sofidel advertisement for Regina Blitz receives the MOIGE family-friendly Award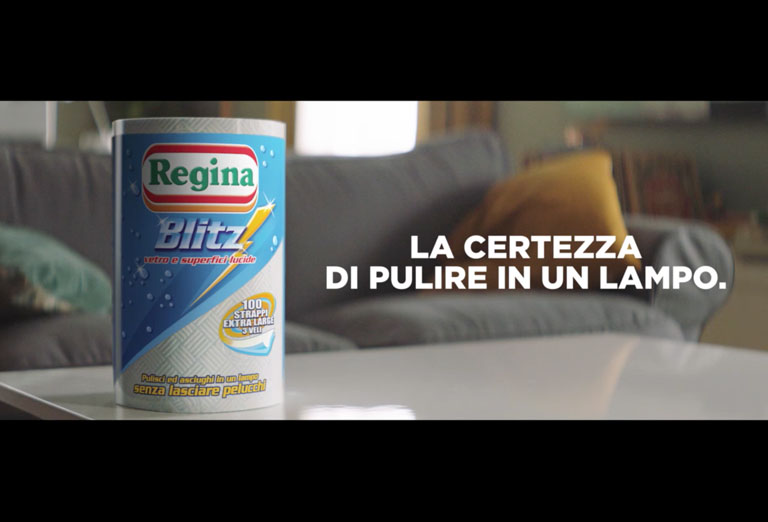 The commercial created by Grey tells family stories and about everyday life at home.
The Media Observatory of MOIGE – Movimento Italiano Genitori, the Italian Parents Movement – gave their family-friendly TV award to the Sofidel Regina Blitz advertisement today in the afternoon. The ceremony took place in the "Sala della Regina" in Palazzo Montecitorio, the seat of the Italian Chamber of Deputies in Rome, during the presentation of 11th edition of the critical guide to family-friendly television programmes called "Un Anno di Zapping 2017-2018" (2017-2018, One Year of Channel Hopping) by Movimento Italiano Genitori, the Italian Parents Movement.
The prize sculpted by artist Alberto Ruggieri was given to Rolando Figaia, Sofidel Product Management Director – Brand.
"We are pleased to have received this important accolade today precisely because Sofidel advertisements are targeted mostly to families", Rolando Figaia commented. "For this campaign we chose a new plot focusing on being able to rely on Regina products to tackle small, ordinary troubles at home. We chose to talk about family relations and everyday life in an ironic, light-hearted and amusing way. Regina has always played a pioneering role on the tissue market in terms of product development and communications. The latest creative chapter is the continuation of a consumer-oriented focus that boasts over thirty years of history".
The MOIGE Media Observatory monitored over 300 products in TV programmes and on the web and wrote a critical guide, offering quality assessment of programmes broadcast on television before the watershed (quiz shows, talk shows, serials, TV movies, miniseries, cartoons, advertisements, etc.) and some YouTube channels. The analysis statements, motivated in technical-scientific terms, also took into account the many complaints sent to the Observatory directly by Italian families.
Created in the scope of a broader rebranding project, the new Regina ads (Regina Wish, Regina Blitz, Asciugoni Regina) spring from the partnership with Grey.