Press releases 21 May 2021
The Regina brand alongside
"Po before the sea" initiative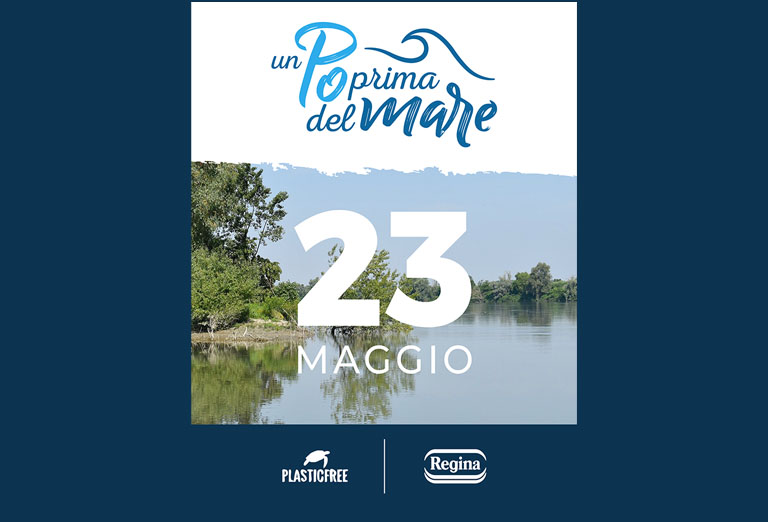 The biggest reclamation of the Po River, organized by Plastic Free Onlus, is about to start involving Piedmont, Lombardy, Emilia-Romagna and Veneto in Italy
On May 23rd, Plastic Free Odv Onlus association, with the support of companies attentive to environmental protection, such as Flowe, Sofidel Group with its Regina brand, and Roberto Collina, is organizing more than 50 simultaneous cleaning events across four regions in Italy: Piedmont, Lombardy, Emilia-Romagna and Veneto. This is the largest ever clean-up of the banks of the River Po and aims to remove over 50,000 kg of waste, especially plastic, from the environment.
Every year, each person produces about 460 kilos of waste, equivalent to the weight of a polar bear. According to the study conducted by A.I.C.A. (International Association for Environmental Communication) and the European Research Institute (E.R.I.), the Po River spills that same amount in the form of microplastics in just one hour into the Adriatic Sea. This increasingly dangerous pollution has a daily impact on the entire ecosystem, especially the marine ecosystem, and consequently on human beings. The catchment area of the Po River and its tributaries corresponds to a very large, industrially advanced area with a population of 20 million people.
In this context, the Sofidel Group, one of the world's leading manufacturers of tissue paper for hygiene products, has chosen to support the "Po before the sea" initiative, confirming its commitment to taking care of the planet. A responsibility that is upheld along the entire value chain: upstream, in the supply chain management; in the production phase, through technological and sustainable industrial processes; and downstream, in the creation of products that take care of people, offering hygiene and practicality, and take care of the planet.
"The Sofidel Group, also through the Regina brand, wants to be at the forefront of the commitment to a cleaner world. This is why we are pleased to participate in this initiative that, in addition to bringing concrete benefits, aims to raise awareness and spread the culture of respect for the planet," stated Luigi Lazzareschi, CEO of the Sofidel Group. "As part of our sustainability goals, in 2020 we have reduced the use of plastic packaging for our products by about 20% and we are pursuing the ambitious goal of reducing the incidence of conventional plastic by 50% in our production by 2030, compared to 2013."
For more information on the initiative "Po before the sea": https://www.plasticfreeonlus.it/23-maggio-unpoprimadelmare/ (in Italian)