Press releases 29 November 2016
Sofidel receives the WWF Environmental Paper Award for sustainability in the paper manufacturing sector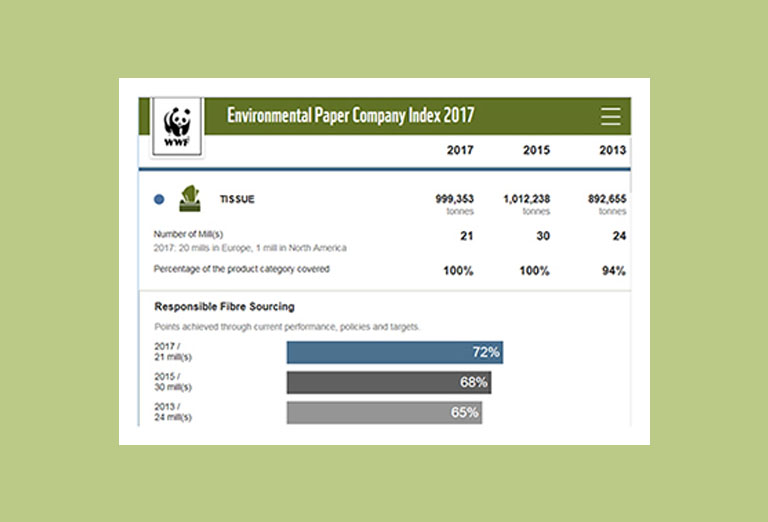 The Lucca-based Group received the award in the Best Environmental Performance Paper Brands category
The commitment to sustainability shown by Sofidel, world leading hygienic and household tissue manufacturer, has been recognised by the WWF in their Environmental Paper Awards 2016 ceremony. The award is dedicated to the brands in the paper sector that have distinguished themselves the most through environmental performance and to the paper manufacturers committed to guaranteeing the transparency of their products' footprint and the constant effort to improve environmental performance.
Three Sofidel products received the 2016 WWF Environmental Paper Awards in the Best Environmental Performance Paper Brands category, a recognition reserved for companies who have made public the performance of their brands, certified by an independent third party, and have achieved a score of more than 80% according to the "Check your Paper" method.
The products awarded, that have achieved an 85% score, are:
Mini Jumbo Toilet Tissue Kraft
Papernet Centrefeed Hand Towel
Papernet Dissolve Tech v-folded Hand Towel
"Check your Paper" is a method developed by the WWF (http://checkyourpaper.panda.org) in order to acknowledge and encourage the commitment of companies to reducing the footprint of their paper production in terms of wood sourcing, use of water and climate-changing emissions.
Sofidel's commitment to the environment has taken concrete form for some time in a series of initiatives, many of which alongside WWF, to support good practice for limiting environmental impact, reducing waste and promoting responsible consumption, within a "Less is more" philosophy that characterises the Group's activity in its entirety.
To date, Sofidel, between 2009 and 2015, has already reduced its direct CO2 emissions by 17.8%, through investments in energy efficiency and through the use of cogeneration systems and renewable energy sources. Other fundamental areas of activity concern the procurement of cellulose from certified and controlled sources (FSC®, PEFC™, SFI™), now nearly 100% (99.97%), and safeguarding water resources.