Press releases 28 October 2020
Regina Cartacamomilla changes its look with a new paper packaging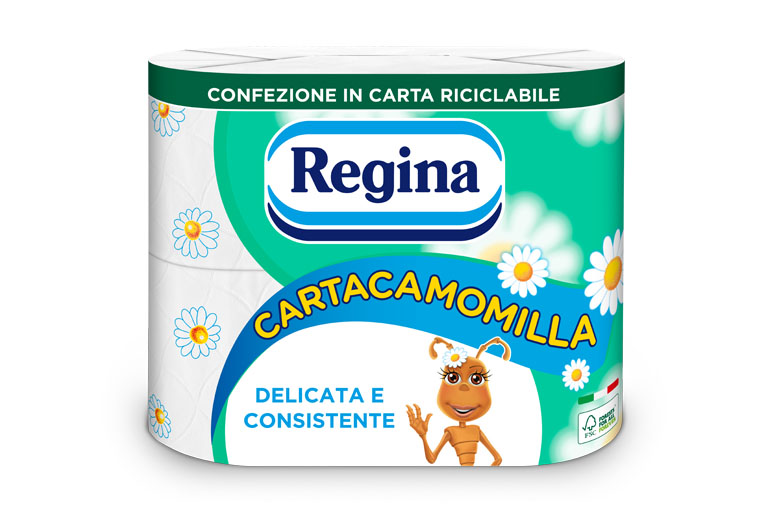 The Sofidel Group's commitment to more sustainable packaging continues with the introduction of new kraft paper packs – replacing polyethylene – in the well-known product line.
Porcari, Lucca (Italy), 28 October 2020 – Regina Cartacamomilla – the three-ply toilet paper, perfumed with chamomile essence and decorated with the flower inspiring it – is now available with a new packaging in kraft paper. This is a new feature of a product that has been distinguished by Italian consumers for the quality of its offer. The new packaging is manufactured with a bio-based material, and therefore renewable and easily recyclable, and replaces the standard polyethylene film.
Sofidel, one of the global leading manufacturers of tissue paper for hygienic and domestic use, has decided to use more sustainable packaging, introducing new kraft paper packs for all the Regina Cartacamomilla product formats (4, 6, 8 and 12 rolls), as already done with Regina Blitz household paper towel.
The operation, started in Italy in September, will be completed by the end of the year and is part of Sofidel's broader sustainable development strategy.
At the same time, the Regina Kamillenpapier toilet paper, in Germany, and the Regina Rumiankowy toilet paper, in Poland, hit supermarket shelves in a new version featuring kraft paper packs, alongside the polyethylene packs already marketed.
In Spain, the new Regina Camomila toilet paper with kraft paper packs has been recently presented to retailers in the country.
The Sofidel Group has set the goal of achieving a 50% reduction in the use of conventional plastic in its production by 2030 (compared to 2013), which is equivalent to the elimination of over 11,000 tonnes of plastic released onto the market every year (from 2030 onwards).
This goal is pursued through a general reduction in the thickness of the plastic film used in the production process (launched some years ago), the introduction of new kraft paper packaging, which is already present or due to arrive on European distribution shelves, and the progressive use, on some markets, of recycled plastics or bioplastics.