Press releases 18 February 2022
Over 220 thousand students committed to taking care of the Planet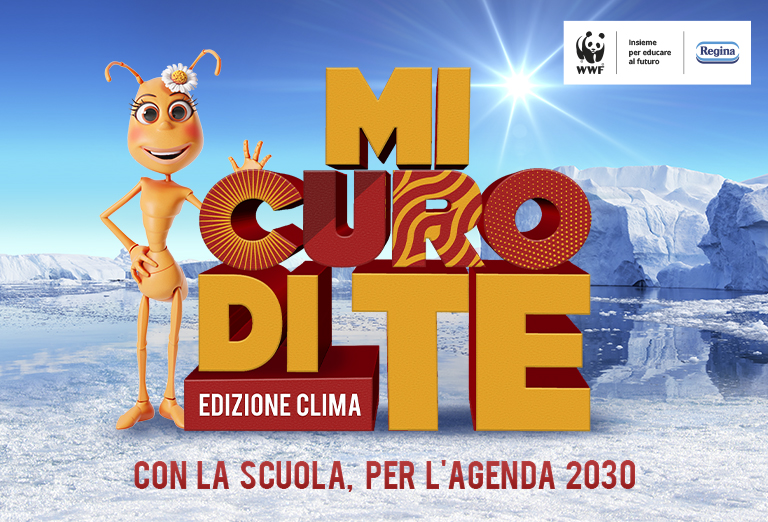 Teachers and families with WWF Italy and Sofidel to educate the new generations to inhabit the world in a new way
Environmental awareness becomes a focal point among Italian schools and young people. Already, more than 10,000 classes this year – over 220 thousand students – have decided to participate in "I'll Take Care of You" (Mi Curo di Te), WWF Italy and Regina's (Sofidel Group) environmental education program. Since 2014, this project has accompanied Italian children on a fantastic discovery of our Planet and how to take care of it.
The 2021/22 edition of the project – aimed at children in Italian primary and secondary schools, their teachers and families – focuses on the objectives of the 2030 Agenda and climate. It is an educational program, high on fun and with many prizes up for grabs, that winds through games, educational worksheets and digital quizzes that introduce the phenomenon of climate change and the impacts it causes on the Earth, from melting glaciers to the greenhouse effect.
Since its launch, memberships have hit impressive numbers in just over four months. Isabella Pratesi, Conservation Director of WWF Italy, explains: "We wondered about the success of this edition. Certainly, the events of the past two years have helped focus the spotlight on environmental conservation issues. Teachers and families are strongly determined to educate the next generation to inhabit the world in a new way. We can and should help them by providing them with appropriate tools."
Elena Faccio, Creative, Communication and CSR Director of Sofidel, adds: "I'll Take Care of You" (Mi Curo di Te) is a project that we have always cared a lot about. And even more so in the last two years. Many teachers have found the program useful, helping to enrich or enliven their lessons, even when they have been forced to teach at a distance because of the restrictions we are familiar with. In doing business, sustainability is a strategic lever for us. Being able to do something to win over the younger generations is one of our main goals."
There is time to participate in "I'll Take Care of You" until 29th April 2022. Teachers can download the educational kit and guide the children to make the submissions to climb the final ranking and win prizes. To win, help from family members also counts, who can also participate in the quizzes and surveys available on the site www.micurodite.it (in Italian).
In addition to a supply of Regina products and access to WWF Italy's educational portal OnePlanetSchool, the primary schools winning first, second and third place, and, identically, the top three secondary schools, will receive vouchers for educational materials worth €1,000, €600 and €400. Supplies of Regina products and access to OnePlanetSchool will also be awarded to schools in categories in 4th to 6th position. Drawings will award other prizes. Full details are listed on the project's website.
Winners will be notified on www.micurodite.it by 11th May 2022.