Press releases 20 March 2018
Luigi Lazzareschi has been awarded the 2018 Radical Green Award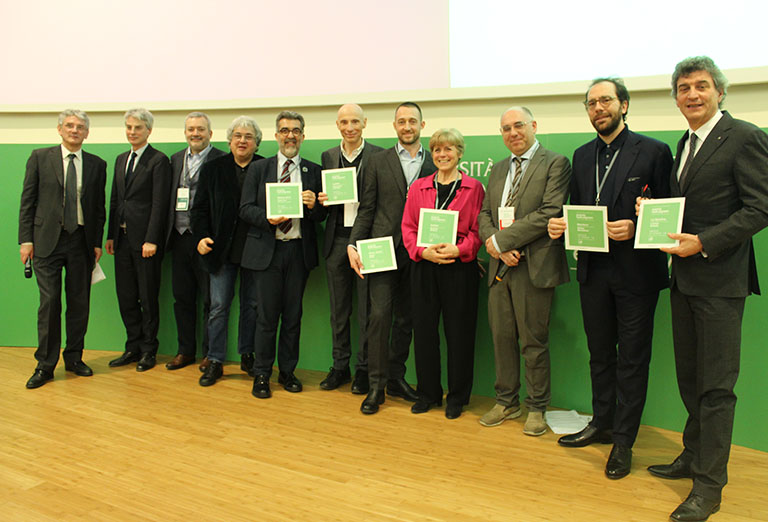 This accolade was granted to the CEO of the Sofidel Group
"for the merits attained by the company in terms of eco-sustainability and green thinking".
The 2018 edition of the Radical Green Award went to Luigi Lazzareschi, CEO of the Sofidel Group, with the award ceremony held on Friday in Trento, during Green Week, the festival-laboratory on the green economy promoted by Fondazione Symbola and ItalyPost, in collaboration with the Comune of Trento, Autonomous Province of Trento, University of Trento, Edmund Mach Foundation, Fondazione Bruno Kessler, MUSE Science Museum and Trentino Sviluppo.
The award was granted "for the merits attained by Sofidel in terms of eco-sustainability and green thinking over the years".
"Sofidel is honoured by this accolade, which drives us towards even greater commitment to promoting fully sustainable development capable of guaranteeing shared value throughout the entire value creation chain" commented Luigi Lazzareschi, CEO of the Sofidel Group. "Events such as Green Week are important occasions for dialogue and exchange and represents another major occasion that helps us to raise awareness on the future and the themes of responsible development".
The Radical Green Award "was created to raise local and national awareness of successful eco-practice in our industrial fabric". Several companies have received the award in previous editions, including Acqua San Benedetto, Gruppo Alì, Fiamm, GrisDainese, Gruppo Pedon and Wärtsilä Italia.
Sofidel sees sustainability as a strategic growth leverage. This commitment has intensified since 2008, through participation in the WWF Climate Savers programme, with which Sofidel took on particularly ambitious climate-changing emission reduction targets. In 2017, Sofidel reduced its carbon intensity by 20.6% compared to the 2009 base values per kilogram of paper produced.
Sofidel's commitment to sustainability is also related to the procurement of pulp certified by independent third parties with responsible forest management schemes (100% in 2017, FSC®, FSC® Controlled Wood, PEFC™, SFI®) and the safeguard of water resources, with specific management and investment measures that have permitted water consumption in production processes well below the sector benchmark (7.1 l/kg vs. 15–25 l/kg).
Susanna Bellandi, Sofidel Global Creative, Communication & CSR Director, took part in the ceremony and received the award.