Press releases 18 March 2021
"I'll Take Care of You": Regina and WWF with schools for Agenda 2030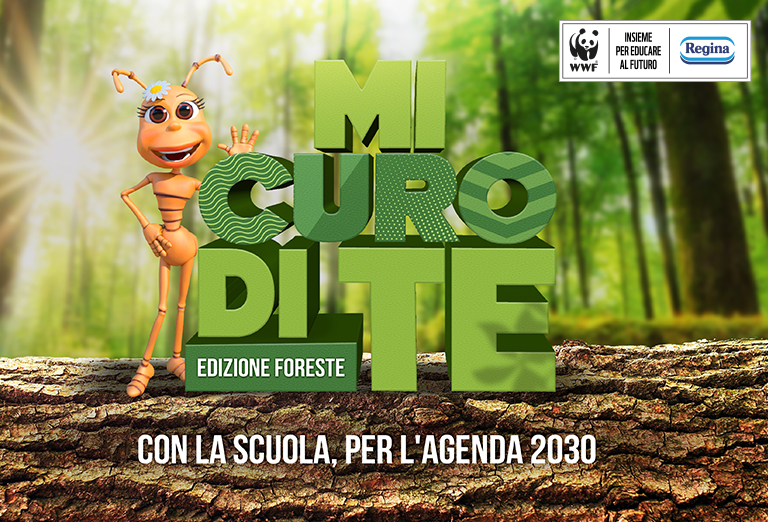 The project that involves schools, students and families discovering the wonders of forests together with WWF Italy and Regina (Sofidel Group) is continuing.
A new initiative aimed at consumers is also underway to
support Italian primary and secondary schools.
More than 1,500 institutes and 136,000 students have already joined "I'll Take Care of You" ("MI Curo di Te"), the educational project promoted by WWF and Regina (Sofidel Group) to discover, get to know and love our Planet, starting with forests and knowledge of the UN 2030 Agenda.
Full of in-depth content and activities, the programme is aimed at primary and junior high schools in Italy, which have responded with great enthusiasm in recent months. Various educational tools and digital games are being made available to teachers, students and families, to be undertaken in school or at home, that are designed to raise awareness about care and respect for the environment. All with an outstanding mascot: Milla, the ant that stars in advertisements for Regina Cartacamomilla toilet paper.
Until 31 May, classes can enter the competition and win the many prizes up for grabs. After examining the issue of biodiversity and safeguarding the forests, the children and young people taking part can undertake a test that enhances their creativity and also involves teachers and families.
Primary schools will have to create a poster that explains what has been learned in class, exploring the details and curiosities that most struck pupils and the emotions and experiences they shared together. Junior high schools must create a class slogan to spread awareness of the importance of forests by developing a poster, a post on the social networks and a newspaper page.

A new initiative aimed at consumers gets underway
The educational project "I'll Take Care of You" ("Mi curo di te") has recently been enriched with a new initiative to support primary and junior high schools all over Italy. From the 1st of March to the 31st of July 2021, you can reward your favourite school by buying a pack of Regina Cartacamomilla and uploading the receipt data on the website www.micurodite.regina.eu. Every week, three €1000 vouchers for investing in educational materials will be up for grabs. In addition, the school, based on the votes, will win points for every receipt uploaded and will take part in the final draw. The top 20 schools ranked on the basis of consumer preferences will win shopping vouchers of between 1,000 and 1,500 euros, while the final draw will offer another 14 vouchers worth 650 euros. So many prizes for investing in tools for the school to continue to discover and explore nature.
An additional initiative for schools and families, the main places where awareness and attention to the environment can be grown and developed every day.
To find out more and sign up for the school project "I'll Take Care of You", visit the website: www.micurodite.it

The project launch video can be viewed at this link: https://youtu.be/qbe0ToMV2to