Three words that capture the Group's full commitment to give more in terms of values, products and services by reducing consumption, waste and negative impact on the environment and people's lives.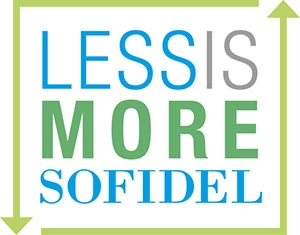 From the procurement of the raw materials to paper production, from distribution to sales activities, each daily activity of the Sofidel companies is inspired by a simple and clear guiding principle: "Less is More".
In everyday life this means, for example, researching the most innovative solutions to reduce energy and water consumption, minimise CO2 emissions into the atmosphere, reduce waste, promote responsible consumption, improve production and product efficiency, protect safety and health…
In other words, promoting sustainable development while respecting people's present-day needs, without forgetting those of the future generations.
The final objective is the creation of products with a reduced environmental impact and at the same time an increasingly high level of efficiency, which contain ever lower levels of natural capital.
The Sofidel company mission, the objectives for the future

"Making everyday life tidier, cleaner, safer, more practical and pleasant

by investing in

people and innovation and promoting conduct based on sustainability, commercial transparency and respect for regulations,

with the aim of

creating value for customers, employees, partners, shareholders and the community."
The strategic objectives that the company has set for itself over the coming years stem from the statement contained in the Sofidel Group company mission, and from all the values described in this page.
Sofidel strategy:
to create value through values
For Sofidel, corporate social responsibility is not "separate" from the aim to pursue high levels of development, it is a cornerstone of our modus operandi.
The Group strongly believes that it is only possible to create long-lasting shared value for all our stakeholders by implementing a sustainable development strategy for the environment and society with a long-term vision. This is to be pursued, particularly, by promoting forms of active collaboration with its stakeholders.
Endless Care, Innovative Life
Sofidel summarises the essential features of our identity and our attitude towards the future with its tagline "Endless Care, Innovative Life".
"Endless" alludes to the idea of length and convenience which distinguishes Sofidel tissue paper rolls.
"Care" refers to the attention to product quality and, in a broader context, the desire to care for the world around us.
"Innovative" refers to the objective of continuous evolution when creating products and improving production and distribution processes.
"Life" refers to the promise to improve the quality of life of all the company stakeholders, from clients and partners to employees and communities where the company works.