Press releases 4 November 2016
Sofidel joins the Comune of Peccioli to test the effective sanitising properties of Papernet Bio Tech toilet paper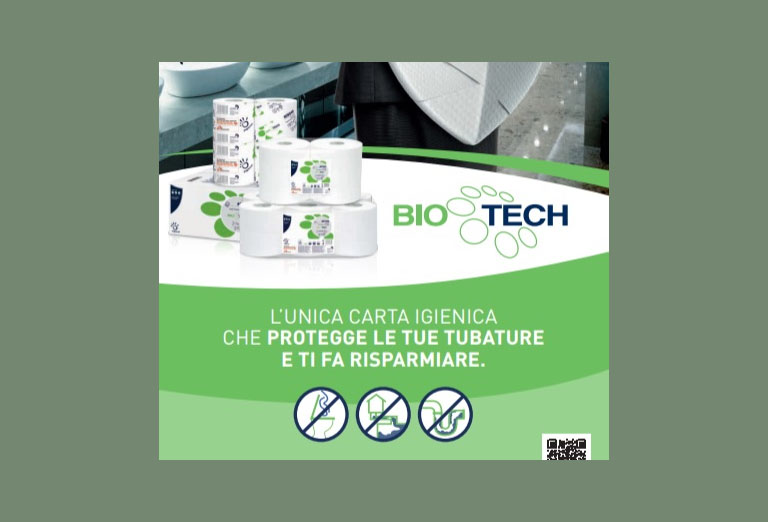 The Sofidel Group of Porcari (Lucca), one of the leading manufacturer of paper for hygienic and domestic use worldwide, has launched a project to test the effective sanitising properties of "Papernet Bio Tech" toilet paper.
Papernet BioTech toilet paper is an innovative, biologically active paper that, thanks to the presence of enzymes, sanitises the plumbing, reducing birdcages and unpleasant odours, helping to fight the bacteria of Legionella pneumophila and Salmonella, responsible for legionnaires' disease and salmonellosis respectively.
After the excellent results achieved in the tests carried out in the industrial field, Sofidel was interested in continuing experimentation in society as well, and proposed the project to the Comune of Peccioli, in light of its many experiences of collaboration in technological and scientific research in recent years.
The Comune of Peccioli took the proposal, with technical support from the University of Pisa, with great enthusiasm, both for making a genuine contribution to the delicate field that is the environment and for benefiting from the positive effects of using this toilet paper on their plumbing, sewers, septic tanks and manholes over the three/four-month period.
Sofidel will also supply all of Peccioli's households with BioTech toilet paper throughout the experiment, with the Comune delivering it to homes directly, from as early as the second half of November, together with an information leaflet. For this reason, an information campaign has already begun with distribution of an explanatory flyer.
The University of Pisa's Industrial Chemistry Department will undertake waste water analysis at the purifier to demonstrate how constant use of BATP (Biologic Active TissuePaper, the active ingredient of Papernet BioTech toilet paper) can contribute to the cleaning and hygiene of plumbing and sewage systems.
"Since 1988 we've distinguished ourselves among Italian comunes by creating a town that can live and breathe with no effect on the environment. The Comune of Peccioli today represents excellence in these terms, and this is the reason for immediately accepting this collaboration with Sofidel, always committed, as ourselves, to protect the environment that surrounds us," declared Renzo Macelloni, mayor of the Comune of Peccioli (Pisa).
"The University of Pisa's Industrial Chemistry Department has always enthusiastically welcomed any proposal with the main aim of advancing knowledge and scientific research, above all in areas that may lead to benefits for man and the environment. So we were delighted to accept Sofidel's proposal of coordinating a study, which also sees the involvement of the Biology Department, and which will allow us to make a comparative assessment of three very different realities in using a high-tech product like Papernet BioTech," stated Roger Fuoco, Head of the University of Pisa's Chemistry and Industrial Chemistry Department.
"Sofidel aims to reinforce its commitment to researching innovative products able to improve quality of life for people and the environment," declared Domenico Prestia, AFH Marketing Manager at Sofidel.