Press releases 20 April 2021
A winning innovation: the Nicky Defend paper towel is chosen as "Product of the Year" in the United Kingdom, Ireland and Spain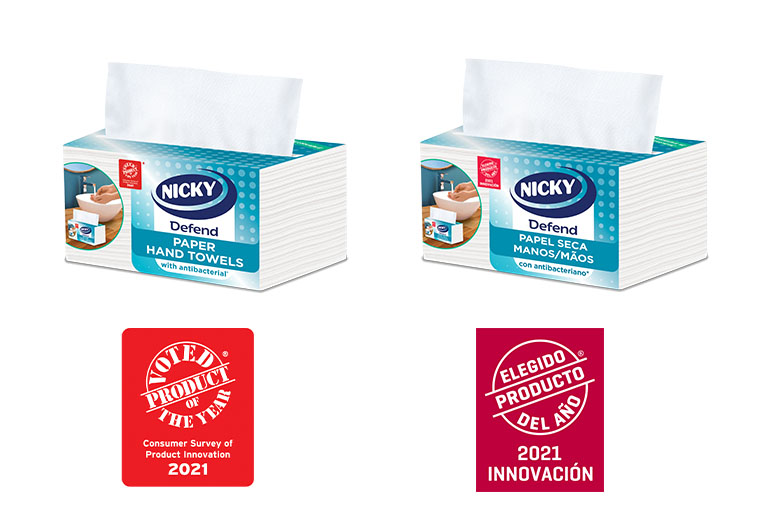 In the United Kingdom, Ireland and Spain, consumers have chosen the Nicky Defend disposable paper towels as the Product of the Year 2021.
In the United Kingdom, Ireland and Spain, consumers have chosen Nicky Defend disposable paper towels as Product of the Year 2021. Launched just a few months ago, the Nicky Defendtowels were developed to contribute to a more correct level of personal hygiene. Thanks to Temporary Wet Strength technology – with which the paper is treated – the product is just as resistant and absorbent as a towel made of traditional paper but the difference is that it can be flushed away in the toilet, without causing any problems, although it is recommended to dispose of the product in the bin.
Victory was awarded based on the preferences of two panels of ten thousand consumers each.
A disposable paper towel is intrinsically a more hygienic choice than a traditional towel. The interfolded packaging (which enables the towels to be taken out one at a time) helps ensure the product remains free of any external contamination. Nicky Defendpaper towels, which are an absolute innovation in the consumer market – folded towels are a typical product in the Away from Home sector but an innovation in domestic consumption – immediately found favour with consumers in the two markets, which both recognised and rewarded Sofidel's commitment to giving practical and efficient responses to the burgeoning demand for good hygiene.
The Group's constant commitment from the perspective of Clean Living and the speed in finding suitable responses to the new emerging market needs, have allowed Nicky Defend to stand out in the field of innovations in tissues. The hope is that this new commodity category for the consumer world will become a new standard: part of the new normal that awaits us all.
The consumer organisation Product of The Year UK – on the basis of the consumer panels of the Kantar market research company in the UK and Ireland (9,685 individuals) – chose Nicky Defendas the product of the year in the Household category. The total score obtained was 55%.
In Spain, the organisation responsible for granting awards for innovation – with the involvement of the consumer panels of Netquest and Kuvut (10,113 individuals) – also chose Nicky Defend as Product of the Year in the Multipurpose Cellulose category. Nicky Defend obtained a total score of 7.75/12 and sixth place in the winners' ranking out of 36 products assessed, and was described as a practical, effective and highly innovative product.