News 16 November 2020
TV debut for Regina toilet paper commercial in the UK and new Regina Cartacamomilla campaign in Italy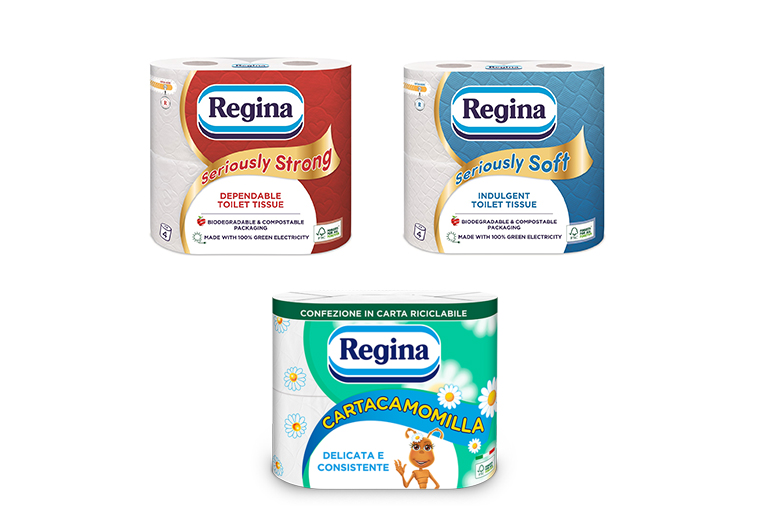 Both commercials have been developed by Grey Italia. The campaign concepts tell the story of the products starting from small everyday problems and domestic mishaps.

Sofidel has chosen television to present the new line of toilet paper recently launched in the UK, Regina Seriously Soft and Regina Seriously Strong, to British consumers. These are two different high-quality products characterized by softness (Soft) and strength (Strong). The commercials, developed by Grey Italia in collaboration with Grey UK, focus on the certainty that you can always choose the right product for your needs.
The protagonists of the TV commercials are husband and wife, whose small domestic mishaps demonstrate the underlying theme of the campaign: trying to do two things at once is a recipe for disaster. The answer to their problems is Regina, with two products that each focus on only one characteristic at a time: the softness or strength of paper.
Also this autumn, in Italy, a new Regina Cartacamomilla commercial by Grey Italia is on TV. The campaign concept presents Regina Cartacamomilla as "the certainty of something delicate every day" in the face of small everyday problems.
The Regina Rumiankowy commercial, the same product present on the Polish market, also went on-air on the main TV networks in Poland.
You can see the new commercials on the YouTube channel Regina PaperforPeople.