News 18 December 2019
Sofidel, taking part with Nicky in the Telethon Foundation marathon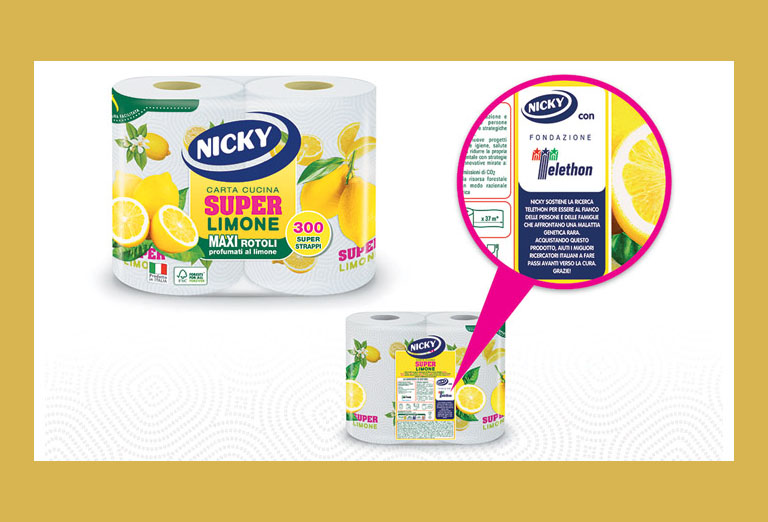 Through its Nicky products, Sofidel has once again renewed its partnership with the Telethon Foundation, supporting research into rare genetic diseases. The company will take part in the 30th edition of the Telethon Foundation television marathon, scheduled to go on air on the Italian Rai networks from 14 to 21 December 2019.
During the week-long awareness and fundraising campaign for scientific research into rare genetic diseases, our colleague Gianluca Moriconi, Sofidel Country Sales Manager – Private Label, will feature in the Studio Telethon live television broadcast on RaiUno on the afternoon of Saturday 21 December, presenting the usual cheque to the Foundation.
Sofidel will also take part in the Telethon marathon through recorded video inserts broadcast during other television programmes.
Sofidel has supported the Telethon Foundation since 2012 through direct contributions and by promoting the Foundation's projects on the packaging of Nicky brand products, as well as on the website www.nicky.eu/it-it/, on the Facebook page www.facebook.com/Nicky.carta and on the Instagram page https://www.instagram.com/nicky.italia/.
In addition to the Rai networks, the Telethon Foundation marathon also benefits from the involvement and support of Radio Rai, Testata Giornalistica Regionale (TGR), TG1, TG2, TG3, TG3 Leonardo, TG2 Medicina 33 and Rainews24, the Rai and Radio Rai social media pages and those of the Telethon Foundation and its institutional partners.