News 29 March 2019
Sofidel Main Partner of WWF Italy for Earth Hour 2019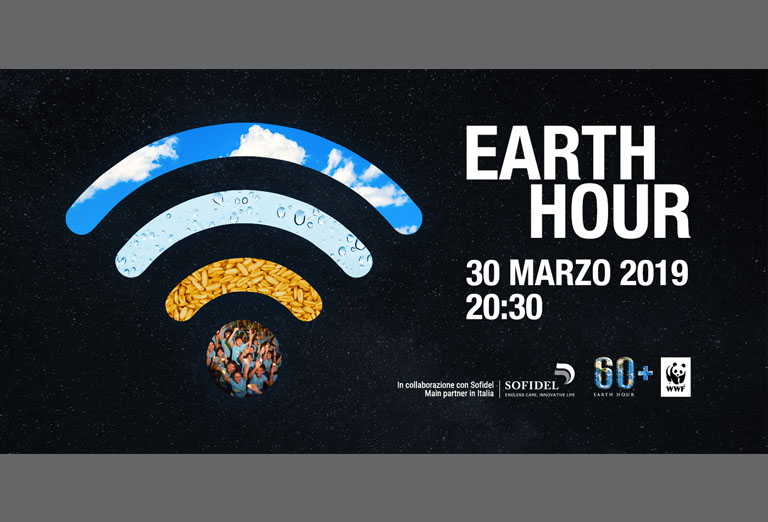 Sofidel – again this year – is the Main Partner of the event promoted by WWF Italy tomorrow (Saturday, March 30) in Matera, the European Capital of Culture 2019, on the occasion of Earth Hour 2019.
Earth Hour is the world's largest grassroots movement for the protection of climate and biodiversity. Starting from the symbolic gesture of turning off lights for an hour, the event unites citizens, institutions and businesses from hundreds of countries in the common desire to give to the Earth a sustainable future, and win the challenge of climate change. The event is promoted under the slogan #Connect2Earth, a concept that expresses the close link between humankind and nature, as well as between climate change and the loss of biodiversity – a natural capital for our life to rest on.
Sofidel joins the initiative by turning off the neon signs of its plants in Italy and in most of its European plants from 8:30pm to 9:30pm on Saturday March 30. Moreover, Sofidel will participate in the event organized by WWF at the Istituto Comprensivo Pascoli of Matera. In the morning of March 30 classes of the local middle school will attend a workshop on the free digital educational programme "Mi curo di te: il gesto di ognuno per il Pianeta di tutti" (I'll take care of you: everyone's contribution to a Planet for all), created by WWF with the support of Sofidel. During Earth Hour 2019, the Sofidel Group is thus committed to enhancing the link between new generations, environmental education and culture, on which the long-standing collaboration with WWF is also based.
Sofidel has partnered with WWF for over 10 years as part of the Climate Savers Programme, and, in 2017, has renewed its commitment by signing the Manifesto "An S.O.S. (Safe Operating Space) for a sustainable future" inspired by the 17 Sustainable Development Goals (SDGs) of the United Nations (UN) Agenda 2030. The Group embraces the long-term vision promoted by the WWF: consider our Planet as a common place to achieve a fair and sustainable well-being and recognize the importance of natural capital. Over the years, Sofidel has also collaborated with WWF by supporting various awareness-raising and engagement activities, including the learning project "I take care of you". Specifically dedicated to Italian schools, the programme – that marked its fourth year in 2018 – focuses on three major themes: Water, Climate and Forests.
For more information on Earth Hour 2019, click here.