News 14 October 2019
New Regina Asciugoni paper towel advert goes live in Italy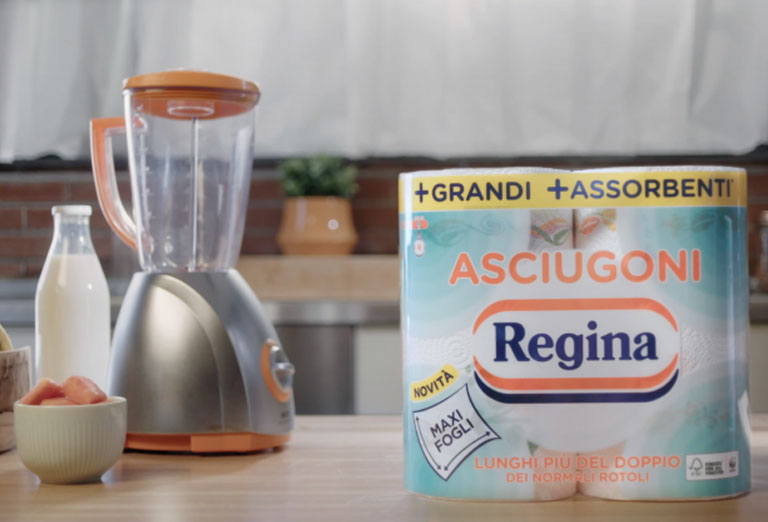 Italy's most famous paper towel from the Regina brand (Sofidel Group) is back in the media spotlight with its high-impact video campaign.
The idea, launched online last May, came about due to the need to communicate in a simple, direct and clear way that, from today, Regina Asciugoni's paper towel sheets are even bigger and more absorbent. The adjectives "più grandi e più assorbenti" (bigger and more absorbent) are transformed into the absolute superlatives "grandissimi e assorbentissimi" (very big and very absorbent), creating a specific key concept with its own hashtag: Regina Asciugoni paper towels are now even more "#issimi".
The campaign, on-air from October to December 2019, will be broadcast using a mix of formats from 10 seconds to 20 seconds on linear TV channels (Rai, La7, Sky, Tv8, Real Time, Canale 9, Food Network, Paramount) and on live & streaming channels (RaiPlay, YouTube, Sky Go, Dplay and Mediaset Play). It will also have a presence on two event programmes in the autumn/winter season (the Fiorello format, starting on Monday 4th November on Rai 1 and RaiPlay, and X Factor live episodes on Sky) and a contest that will focus on the Game: "give us your very best #ISSIMI face and win the very best prizes with Regina Asciugoni paper towels".