News 22 January 2020
New paper packaging launched for household towel Regina Blitz XXL in Spain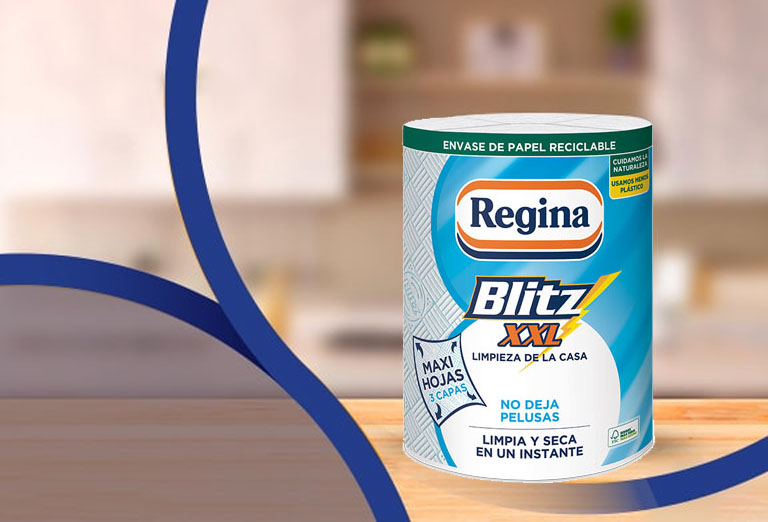 Sofidel pursues its path towards more environmentally-sustainable product development by launching in Spain Regina Blitz XXL household roll wrapped in kraft paper – replacing the previous polyethylene packaging. In addition, the roll format has also been modified to XXL size, adding more sheets in order to adapt the product to the Spanish markets trend in terms of multipurpose paper, also allowing a lower consumption of paper packaging for the same amount of finished product. The product will be hitting supermarket shelves in early 2020.

The recent debut on the Spanish market of the Regina Zero toilet paper – distinguished by kraft paper packaging, coreless rolls (and, therefore, zero waste) as well as more compact rolls (allowing for higher logistical efficiency in the transport phase with a reduction in CO2) – has been a pilot for the launch of Regina Blitz XXL wrapped in kraft paper, showing further effort towards responsible and sustainable development by the Sofidel Group.

Standing out for its packaging in kraft paper – a plant-based material that is renewable and easy to recycle – Regina Blitz XXL household roll is part of an extensive product innovation strategy currently being implemented by the Group. A new phase of its sustainability strategy developed with particular focus on the 12th Sustainable Development Goal of the United Nations 2030 Agenda – Responsible Consumption and Production.