News 22 May 2019
The SDGs featured in the Italian educational project "Mi curo di Te" by WWF and Sofidel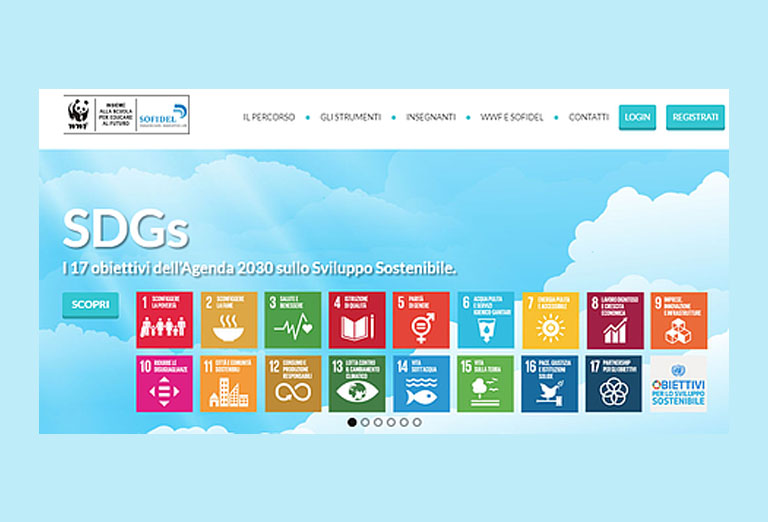 Sofidel, also for this year, supports the educational project "Mi Curo di Te: il gesto di ognuno per il Pianeta di tutti" (I'll take care of you: everyone's contribution to a Planet for all) in collaboration with WWF. On the occasion of the Oasis Day 2019 – held in Italy on May 19th – WWF launched the new learning plans of the digital programme available for free to Italian schools of the first cycle of education. The project, which has reached its fifth edition in 2019, focuses on three major themes that also closely affect Sofidel (water, climate and forests), now explained in light of the United Nations 2030 Agenda for Sustainable Development.
This year, teachers will also be provided with information on 9 out of the 17 Sustainable Development Goals (SDGs), so that they can find interesting ideas for educational activities to be developed during the upcoming school-year. Moreover, teachers who will enrol in the "Mi Curo di Te" programme via the dedicated website will also be able to access distance education thanks to free digital lessons that are part of in this new edition of the project.
Raising awareness among young pupils on major environmental issues and teaching children that everything we do – even the smallest deed – has important consequences (either negative or positive) on the balance of nature and for everyone's future is a commitment that WWF carries out throughout the years within schools. A commitment fully shared by Sofidel that, this year, is also developing a series of communication initiatives dedicated to sustainability, entitled NextGen, featuring the younger generations.
Sofidel has been a partner of WWF Italy since 2008, supporting the "I'll take care of you" educational project, launched in 2015 with the aim of helping teachers, students and, indirectly, their families to better understand the world in which they live, getting an idea of how complex and interconnected social, economic and environmental problems are. As of today, thousands of classes have joined the programme, learning about global environmental issues and getting involved – to evaluate what they have learned – by participating in the annual, national school competition where WWF and Regina (Sofidel Group's most famous brand) prizes are up for grabs.
For more information, visit the dedicated website (in Italian only).