Innovation and sustainability are fundamental components of Sofidel products. A consistent research and development work to offer customers and consumers increasingly efficient, hygienic and sustainable products.
Sofidel product quality in four business lines
The production and distribution of the tissue paper products manufactured by the paper mills and converting factories within the Sofidel Group are divided into different lines of business: Consumer Brand, Private Label (products to be marketed with the distributor's brand), Away-from-Home (AFH) and Parent Reels (the sales of large reels to tissue paper converting companies).
Each Sofidel product (toilet paper, kitchen towels, napkins, handkerchiefs and tissues) expresses the strategy of a Group that makes innovation, safety and attention to health and hygiene, personal well-being and protecting the environment the reference points of its value creation process.
Among key concepts are:
Quality – guaranteed by complying with the rules that govern the entire production process;
Safety – a crucial value that concerns both its workers and production plants as well as the people who use its products or any stakeholders who are involved with its activity;
Innovation – a principle that inspires every daily activity of the Group from the standpoint "Less is More" philosophy. In terms of production, the objective is to design and manufacture products with an increasingly reduced ecological footprint, yet increasingly effective; products that require lower amounts of natural capital thanks to higher functional qualities and innovative performance;
Well-being – offered by the Group's tissue paper products and sustainable production processes.
Today the Sofidel Group's products reach households, workplaces and public establishments across Europe and the United States, offering customers and consumers maximum comfort, hygiene, practicality, convenience and high levels of service.
Innovation: old habits die hard
Innovation is an essential component of Sofidel tissue products. Even an apparently "humble" product category conceals solid research and development activity to provide consumers with tissue paper that is ever more high-performing, hygienic and sustainable.
The product that has contributed the most to Sofidel's success in Italy and across Europe, Rotoloni Regina (Maxi Rolls), is the perfect example of this focus. Introduced to the market at the beginning of the 1990s, they were the first Maxi Rolls to hit Italian supermarket shelves, with rolls of greater diameter and more than double the number of sheets of direct competitors (500 compared to 200–230), to the extent of inventing a new product category by Nielsen, the market research firm considered as the benchmark for the distribution of consumer goods.
Rotoloni Regina (Maxi Rolls) were a successful innovation that met with a warm reception both from large-scale retailers, which could optimise their shelf space, and consumers, thanks to less frequent changing of rolls. An innovation that also led to environmental advantages, moving greater quantities of paper with the same transport volumes.
New kraft paper packaging, recycled plastics or bioplastics
Sofidel has enhanced its commitment to innovation by designing and launching tissue products aimed to satisfy the growing consumer demand for environmental awareness. Part of an extensive product innovation and differentiation strategy, these products stand out for their new packaging in kraft paper, a plant-based material that is renewable, biodegradable and easy to recycle, in place of or alongside the existing products wrapped in polyethylene.
This is the case, for example, of the new Rotoloni Regina Eco toilet tissue paper line, available on Italy's supermarket shelves from July 2019, which retain the same product quality that Italians have learned to love over the past 30 years and represents a new contribution towards environmental sustainability.
This commitment is part of an overall strategy that also includes a general reduction in the thickness of the plastic film used in the production process and the progressive use, on some markets, of recycled plastics or bioplastics.
Towards a new generation of products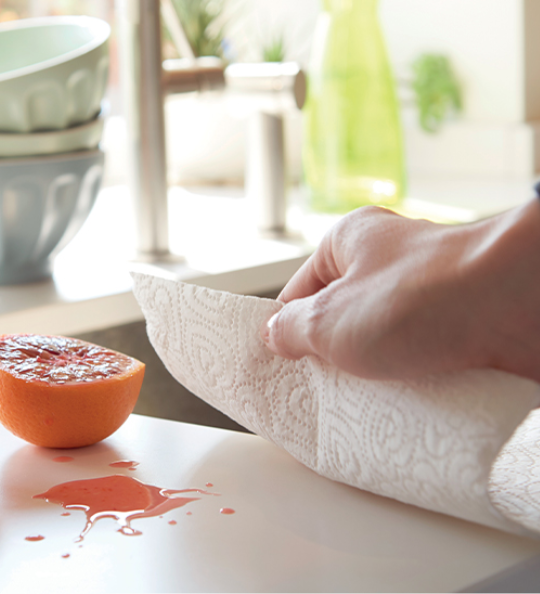 Sofidel is also designing and developing – together with its partners – a new generation of products (both for the Consumer and the Away-from-Home markets) and destined once again to change the market's customs and habits. Among products that fall in this category are:
The Regina Wish kitchen towel – thanks to smart, "hand-sized" design, with savings in raw materials of up to 25% per sheet used;
Regina Skin tissues (paper handkerchiefs) – with a slimmer handy package that makes them more practical and less bulky (ideal for carrying in a pocket or purse) and an elegant design with graphic variations, based on typical themes from the world of fashion with echoes of current trends;
The Regina Pets paper towel – created to provide pet owners with an aid to keep their pet dry and clean at all times. Its large sheets, "disposable" concept and patented "Odour control" technology make it more practical, safe and hygienic than traditional fabric towels;
Nicky Defend, disposable tissue paper towels with antibacterial lotion, are designed to retain the germs and bacteria present on wet hands and specifically developed to ensure proper personal hygiene and cleanliness at home. Thanks to the DissolveTech technology, the product is 100% biodegradable and can be individually flushed after use;
Papernet Defend Tech, the complete range of solutions for improved daily hygiene standards in public spaces and workplaces (including hydroalcoholic gel, soap, dispensers, hand towels, interfolded toilet paper, door tissue hand towels) thanks to the antibacterial, antimicrobial and sanitizing features of the active ingredients used;
Papernet Freshen Tech toilet paper, which – thanks to a cutting-edge technology neutralizes bad odours by modifying their molecular structure. As a result, time and costs of deodorisation in public toilets are eliminated;
Papernet Bio Tech toilet paper – an innovative, biologically active paper which, thanks to the careful selection of a non-GMO (bacteria) spore mixture, sanitizes the plumbing, reducing the risk of clogging thanks to more effective degradation of the organic substances in waste water and pipes;
Papernet Full Tech toilet paper – which reduces changing frequency thanks to the absence of core and double dispensers, combining greater functionality and high performance in use with a focus on environmental sustainability.